Meet Dr. Vega
Anabel Vega, DMD
Working with children brings joy to my life each and every day. As a pediatric dentist, I start seeing patients at a very young age and work with them and their parents to develop good oral health habits right from the start. I am honored by the trust placed in me to protect all the little smiles I see and hope that each child's experience in our office gives them a positive impression of dentistry as they grow into young adults.
I have been in the practice since 1993. All these years have been fun, exciting, and challenging. I am so blessed to work with such an exceptional team who all love working with children as much as I do. We look forward to meeting you and your child and welcoming you into our practice's family.
Education and Continuing Education
I attended the Interamerican University of Puerto Rico for my Bachelor of Science degree in Natural Science. I continued on to the University of Puerto Rico Medical Science Campus Dental School for my Doctorate of Medical Dentistry and completed my Pediatric Specialty Residency at Loyola University in Chicago, IL.
As technology advances, so does my aspiration for keeping up with the best treatments and products. I am constantly involved in continuing education in order to stay up-to-date with all that is new in pediatric and general dentistry.
Professional Affiliations
American Academy of Pediatric Dentistry
American Dental Association
Texas Dental Association
Texas Academy of Pediatric Dentistry
Greater Houston Dental Society
Outside the Office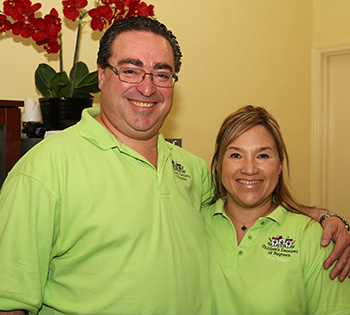 As a native of Puerto Rico, I am fluent in both English and Spanish. I currently live in League City with my husband, and our two sons, Waldemar and Carlos (who are actually living on college campus') My step-daughter, Siouxsie, lives in Wisconsin with her husband, Eliseo, and we love when they come to visit.
My husband, Waldemar (Waldy) Bravo is the Business Administrator of our practice. I am proud and lucky to say that we have become an awesome team balancing family and our working lives.